A couple of weeks ago I read a really insightful post about how to fund your travels at
Travel Gourmande
, one of my favourite blogs full of travel inspiration and lots of beautiful photos. Arni (the blogger behind Travel Gourmande) decided to share her tips to fund her travels to help people realize that travel is affordable if you think realistically and plan ahead. While I have not travelled as much as I would like to, I can count myself lucky for having seen a big part of western Europe and having had the chance to live in several countries. Through all these years I've learnt some valuable lessons that have eventually helped me to plan my trips and I would like to share them as well, even if they're just a compillation of common sense rules. So, whether you're planning the holiday of a lifetime or a simple weekend away, you might find the following tips useful at some point of the way.
Finding my way to a bargain holiday
Save beforehand: Sorry to disappoint you if you were expecting some magic trick that would get you travelling for free but the truth is that there's no way out of this. The moment you start dreaming about your next holiday is the perfect moment to start saving. So, plan carefully to know how much you need and make a plan to get there.
Play strategically: If you don't have any time constrains, you're a lucky one who's able to choose when to travel and that means that you can actually choose to travel cheaper. Business cities are usully fully booked during weekdays but offer nice deals in the weekends and highly touristic places often provide more affordable accomodation during the low season. So, schedule your travels wisely to get the best deals!
Book your tickets ahead: Flying cheap is not what it used to be.I once flew for just 0.99€ from Milan to Rome but I'm afraid this is no longer possible as you have to all sort of taxes, inluding debit card taxes. But still, the earlier you browse the market, the more likely it'll be that you can get your hands on some real bargain. So it is a good idea to start gathering information about routes and prices as soon as you start planning.
Pack wisely: Nowadays, many airlines charge an extra fee for checked-in luggage and with some fees reaching 60€ for a retour journey this is a good point to start saving. And not only money is to be gained from this, also time, as you won't have to wait for your luggage once you land in plus, chances of it getting lost are null. If you're travelling for up to a week it should be possible to pack enough in hand luggage, especially in the summer, when clothesare lightier. My experience telles me that, being petite as I am, it is possible to pack for a 10 days summer holidays without checking-in.
Team up: Maybe you know someone on the place you intend to visit or maybe a friend of yours is looking forward to do the same trip. While the choice of travel compannion can be a very sensitive issue (and therefore you should think twice about this point and even make a list of pros and cons) teaming up is a great way to cut down your expending. Think about renting a car together, getting a night accomodation for free or sharing a meal deal. And chances are that you'll end up having a great time too!
Do your research: Guides are usually packed with many useful information and internet is full of insiders tips which will help you to find shortcuts to a more affordable holiday. Many museums have a free day of evening a week, some tourist cards give access to many attractions with discount and it is not difficult to find concerts or expositions for free in big cities.
Ask for advice: Not everything is written and some things are only learnt by experience. So, locals can always give you some extra hints which might help you staying within your budget while travelling. When I arrived to The Netherlands I didn't know any better than buying my expensive train tickets from the counter; now I know that every now and then some shops offer day-tickets for as little as 12.95€ to travel anywhere in the country. This little things might help and if you don't know anyone with first hand information you can always try the travellers forums from Lonely Planet and The Rough Guide or ask fellow bloggers.
Learn to love local supermarkets: This is especially useful if you need a snack every couple of hours as it will always be cheaper to buy some crisps and a coke from a supermarket than from a 24/7 shop. Also, if you want to bring home some local delicacies it is always a good idea to explore the supermarket shelves before splashing out on an overrated box of chocolates from the souvenir shop. And do not only think of supermarkets. Markets, souqs and all the like are a whole new world of possibilities waiting to be discovered.
Invest in a bobble (or any other water container): I read about bobbles a couple of months ago and I so love it! It is a bottle of water with a filter in the tap which lasts for 300 uses. After that you can change your filter and carry on using your bottle. It will not only save you money because you can refill it and avoid to buy 300 bottles of water in the way but it will also prevent the environment to be drowned with another 300 plastic bottles. Genious!
Relax and enjoy: Too much sightseeing can be tiring and drain your pockets, so from time to time it is good to simply wander around and take a look at the superb architecture a place has to offer, or to sit down on the grass and enjoy some sunshine or take a dip in the nearest beach. Sometimes the best things in life are free!
I hope that these tips will help you in your future travels. I would like to hear it from you as well, how do you budget up for your travels?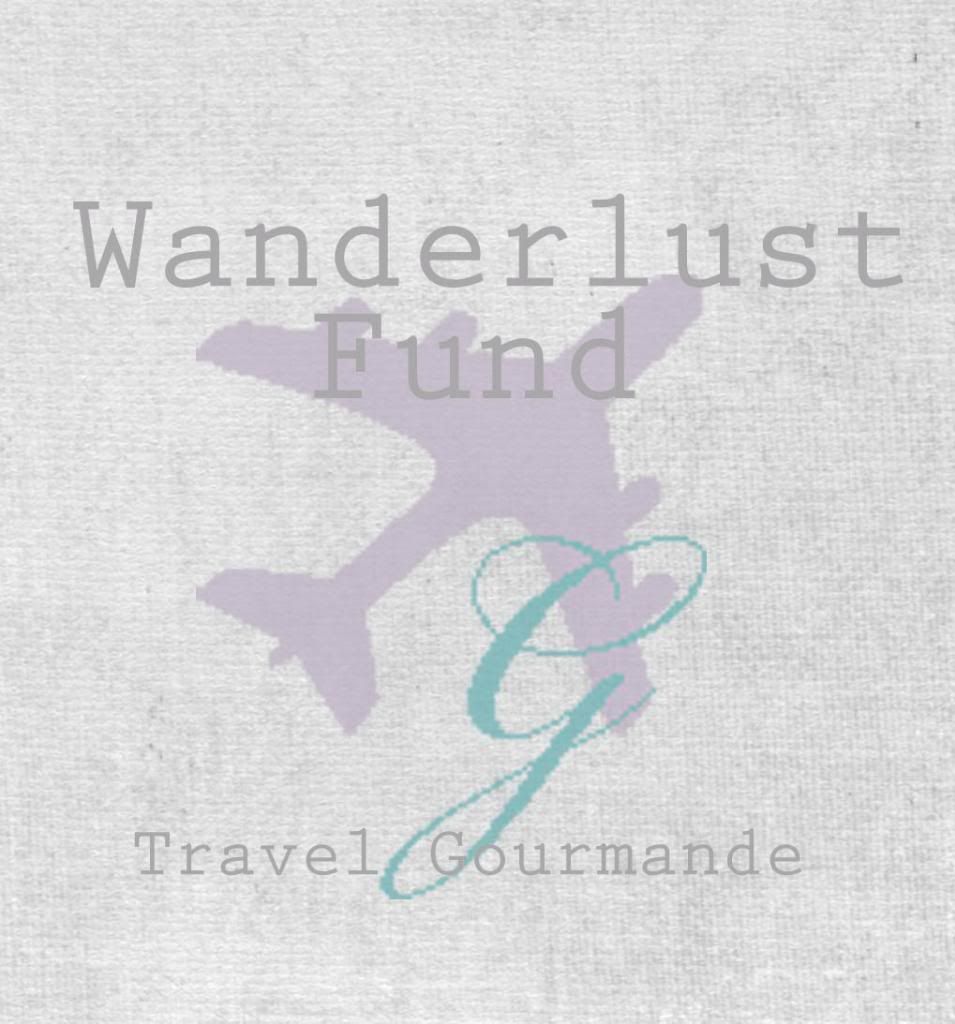 This post is a link up to Arni's Wanderlust Fund. If you like travelling as much as we do and have some interesting tips to share do not hesitate and link up as well. Grab her button and let her know. Oh, and have fun travelling!
How to participate?
1. Write a post (short or as long as you'd like) sharing your tips on how you've funded your travel.
2. Please follow this blog via GFC or if already a Travel Gourmande friend,
then in whatever form (Facebook, Twitter, Pinterest etc.)
3. Grab the logo button above and link this page on your post to spread the word.
4. Please visit two or more links and say hello :)
5. Add your post below by linking in.
That's it.